At Diamond Shield, we manufacture our windows using the high-quality Veka profile and energy-efficient double glazing. We pride ourselves on supplying one of the best window profiles on the market. Plus, our windows come in a variety of colours and styles to suit whatever design you are looking for.
Our team can provide a broad selection of window styles including casement, sash and tilt & turn. We also offer a range of colours. That means you can be sure you are getting the right window profile for your home.
If you want to find out more about our window profile or how we can help with your building supplies, get in touch. You can reach our team by calling 01744 758 881 or sending an email to sales@diamondshieldwindows.co.uk.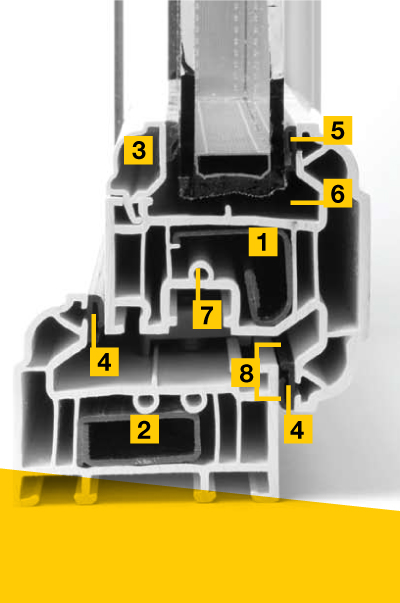 1. Chambers
With five fully closed chambers, our windows come with additional strength, rigidity and performance. Plus, the greater wall thickness helps to improve the thermal efficiency of the window profile.
2. Reinforcement Chamber
The additional chamber allows us to insert an optional galvanised steel reinforcement to our window profiles. Steel reinforcements will improve the strength and rigidity of your frame, without compromising the thermal efficiency of your window. 
3. Single-Leg Bead For Quick And Easy Glazing
As a result, our single leg beading has a simple 'knock-in' design that is fitter friendly and will make glazing on-site quick, easy and more positive. Our single-leg bead stands up to BS7950 Security enhancement standards. 
4&5. Co-extruded Gasket
We pre-fit our co-extruded gasket to our window profile. That allows for quicker installation and fabrication. Plus, these co-extruded gaskets give a consistent and professional finish to our frame.
The seal helps to prevent draughts and helps with thermal insulation.
6. Drainage
A wider drainage channel allows for quick draining of any water/residue built up for improved performance.
7. Pre-drilled Screw Ports
Our locking system screw ports are pre-drilled to ensure a perfectly fitting locking system. That allows us to align our locking system with our screw ports to secure the lock.
8. 10mm Overlap
A 10mm overlap between the frame and the opener allows our windows to maintain a barrier throughout variable weather conditions. The gasket provides a seal against the uPVC frame. Plus, the larger surface area helps to prevent draughts.
Choosing Diamond Shield Windows
You can see more about our window styles and colours on our window page here. We work closely with our customers to provide high-quality products for your projects. That is why Diamond Shield is the perfect choice for your trade projects.
If you want to know more about the services that we offer, get in touch. You can get in contact by calling 01744 758 881 or emailing sales@diamondshieldwindows.co.uk. Our team are happy to help with any inquiries.